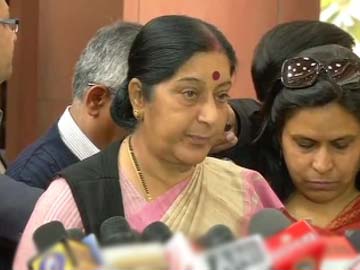 New Delhi: Two days ahead of the commencement of the fortnight-long parliamentary session, the Opposition cast doubts over the UPA government's plans to push through 39 bills legislative bills, including such crucial pieces of legislation as the Telangana statehood bill, women's reservation and the six anti-graft laws considered pivotal to the revival roadmap prepared for the Congress by Rahul Gandhi.

The BJP's Sushma Swaraj, while participating in the all-party meeting convened by parliamentary affairs minister Kamal Nath today, poked fun at the list of 39 bills prepared by the government's floor managers, pointing that it looked more like "Mr Gandhi's agenda and the Congress' election programme," but wondered at the same time whether the House would be allowed to run peacefully.

"If the government can assure us that the House will function peacefully, we have no problem in passing any of the bills - whether it is anti-corruption bills or anything else," observed Ms Swaraj.

The BJP apprehended trouble from Andhra Pradesh-based outfits such as Jagan Mohan Reddy's YSR Congress, N Chandrababu Naidu's Telugu Desam Party, K Chandrashekhar Rao's Telangana Rashtra Samithi and the Congress' own MPs from the Seemandhra region, and argued that it would be very difficult for the government's strategists to ensure a smooth run.

"39 Bills, 12 days of business. Considering them all is out of question, Govt needs to prioritise," tweeted senior CPM leader Sitaram Yechury after attending the all-party meeting.

Mamata Banerjee's Trinamool Congress wanted the government to wind up the session after getting the vote-on-account passed. The argument received support from the Janata Dal (United)'s Sharad Yadav, Ramgopal Yadav of the Samajwadi Party and BSP's Satish Chandra Mishra.

The session, which begins on February 5, will draw to a close on February 20. This will be the last parliamentary sitting before the national election, due by May.